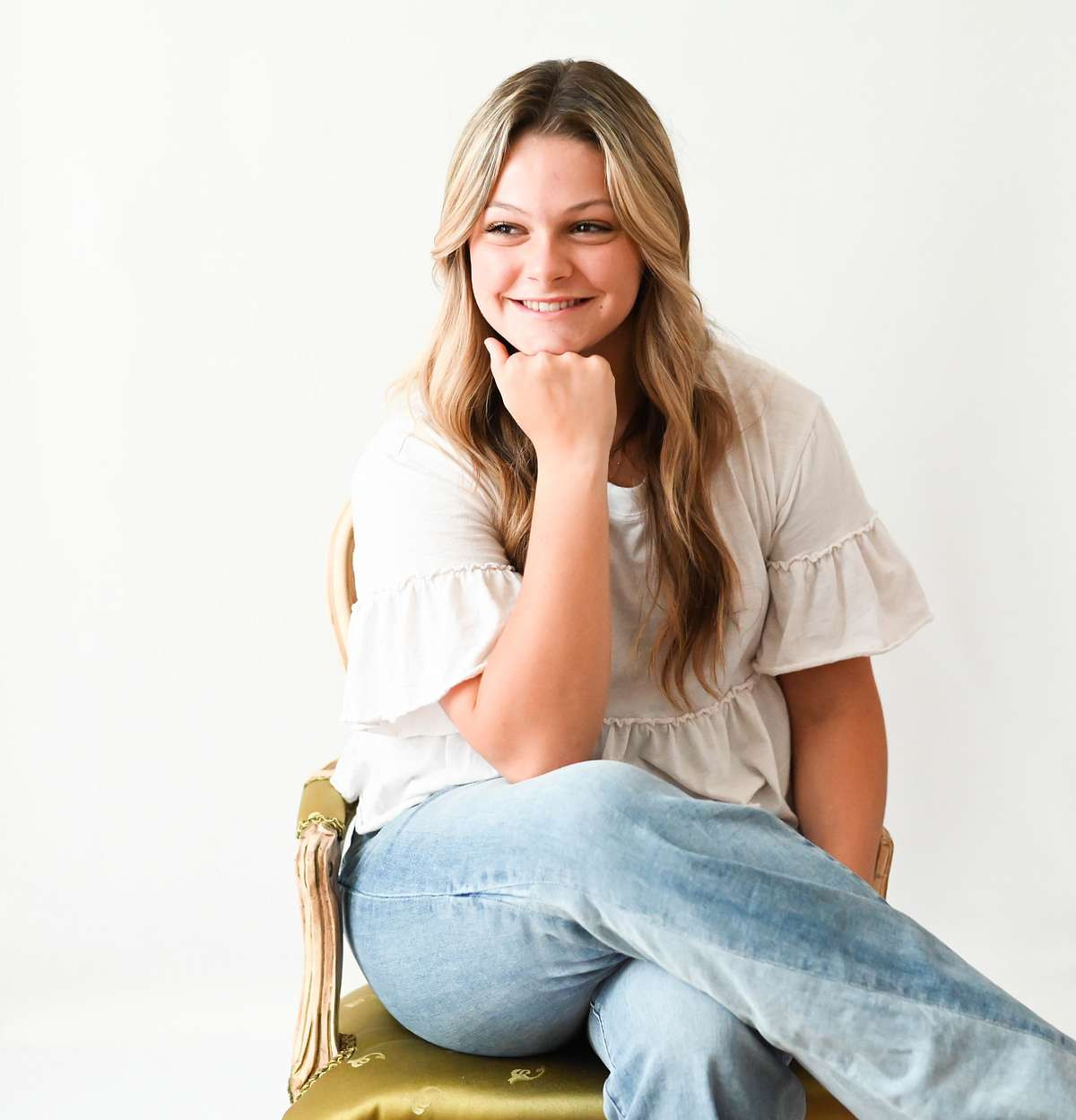 Senior year is a momentous time in your life, and one of the best ways to commemorate this special chapter is through senior portraits. These photos are not only a keepsake but also an opportunity to showcase your personality, style, and individuality. While the location and the photographer's skills play crucial roles in creating stunning senior portraits, your choice of outfits can make all the difference. Here are some senior photo outfit ideas to help you shine in your senior portraits:
1. Classic and Timeless:
For timeless senior portraits that will never go out of style, opt for classic outfits like a crisp white button-down shirt or a little black dress. These choices exude sophistication and can add an air of elegance to your photos. Pair them with simple accessories to keep the focus on you. If you love donuts, books, games, music, sports, let's capture those on this session.
2. Casual Chic:
If your style is more laid-back and casual, consider wearing your favorite jeans and a cozy sweater or a flannel shirt. This look is perfect for capturing your everyday charm and creating a comfortable, relaxed vibe in your photos. Wear your favorite shoes and outfit.
3. Dress to Impress:
For a touch of glamour and elegance, bring out your finest attire. A beautiful evening gown or a sharp suit can make you feel like a star on the red carpet. These outfits are perfect for those who want their senior portraits to be truly memorable and show off their sophisticated side.
4. Sporty Spice:
If you're an athlete or have a passion for a particular sport, why not incorporate it into your senior photos? Wear your team jersey, letterman jacket, or sports gear to highlight your dedication and achievements. This personalized touch adds a unique element to your senior portraits.
5. Bohemian Beauty:
For a free-spirited and boho-inspired look, consider flowy dresses, floral prints, or wide-brimmed hats. Bohemian-style outfits are perfect for creating a dreamy and whimsical atmosphere in your senior portraits, especially if you're shooting in natural outdoor settings.
6. Mix and Match:
Don't be afraid to mix and match different styles and textures. Layering can add depth and interest to your photos. Experiment with combinations like a leather jacket over a floral dress or a statement necklace with a casual t-shirt and jeans.
7. Reflect Your Interests:
Your senior photos should reflect who you are and what you love. If you're into music, consider posing with your instrument or wearing a band t-shirt. If you're a bookworm, bring along your favorite novel or wear glasses to emphasize your literary side.
8. Coordinate with Your Location:
Consider your photoshoot location when choosing your outfits. For a beach backdrop, go for light and airy attire. In an urban setting, edgier or more formal clothing may be suitable. The outfits you choose should complement the environment and create a cohesive look.
9. Celebrate Cultural Heritage:
If you have a strong connection to your cultural heritage, incorporate it into your senior photos. Traditional clothing, jewelry, or accessories from your cultural background can add a meaningful and beautiful touch to your portraits.
10. Express Yourself:
Ultimately, the key to successful senior photos is to be yourself. Choose outfits that make you feel confident and reflect your unique personality. When you feel comfortable and authentic, it will shine through in your photographs.
Remember that you can bring multiple outfits to your photoshoot to capture different sides of your personality. Discuss your outfit choices with Kalina's Photography, and I can provide guidance on what will work best with the chosen locations and lighting.
Your senior year is a time of celebration and self-expression, and your senior portraits should capture that essence. Whether you go for classic elegance, sporty vibes, or something entirely your own, these outfit ideas will help you create senior photos that you'll cherish for years to come. So, embrace your style, have fun with your photoshoot, and let your personality shine through every frame.
11. Schedule Make-up & Hair: All of my senior clients get my preferred make-up artist who is amazing at what she does. She works along with a hair person so you can book everything with her. You will receive this information once you book with me.
To book your session with me, contact me here